MEMBERSHIP
Becoming a member of the congregation is a chance for you to become a part of a community. It is about choosing a direction for your faith, making a commitment, and calling one church your home.
There are a number of ways you may join the Westminster family:
Baptism
Those who were not baptized as children may be received into the congregation by baptism.
Confirmation
Those who were baptized as children may be received by confirmation.
Transfer of Membership
Those who are members in good standing of another United Church may be received by certificate of transfer.
Reaffirmation of Faith
Those who have been baptized and confirmed but have not maintained a Church connection, or who come from a different Church tradition may be received by reaffirmation of faith.
Membership Classes
If you are seeking membership at Westminster for the first time, if you are coming from another tradition, or if you have been away from church for many years, we invite you to take part in our Membership Classes. These are held twice a year and run for seven weeks.
Enrolling in a membership class does not mean that you have committed to membership but simply that you are exploring the possibility.
If you decide to become a member of Westminster United Church you will be received at a Sunday morning church service.
If you would like further information on Membership Classes, please contact us.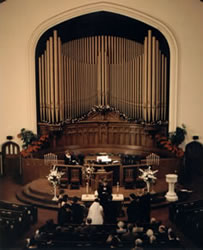 WEDDINGS
Westminster United Church is available to both members and non-members for the Christian solemnization of marriage.
Please follow this link for more information.
BAPTISMS
Baptisms of infants and children are conducted throughout the year during the Sunday morning service. Parents who are baptized may present their children for baptism after attending a preparation class. The class focuses on the meaning of baptism, its place in the life of the church, and on how to raise our children in the Christian faith. Parents who are not baptized will be asked to take adult baptism classes that deal with similar issues and will be baptized with their children.
COMMUNION
The Sacrament of Communion, or the Lord's Supper, gathers us into the saving work of Jesus Christ, which culminated in his sacrificial death upon the cross. We know and receive him at the table in the sharing of bread and wine, symbols of his body broken and blood poured out for the life of the world. Through the Holy Spirit, we are united with Christ in this act and are given hope in his coming reign on earth. On Communion Sundays, we welcome all Christians regardless of age, denomination, or status of membership to participate in the Sacrament.
Communion is celebrated six times per year during Sunday morning worship.
Occasionally, Communion is celebrated immediately after Sunday worship for those choosing to stay.
Please refer to Event & Notices on the Happenings page for upcoming dates.
During Holy Week, Maundy Thursday marks the institution of the Lord's Supper when Jesus gathered his disciples together in an upper room in Jerusalem to celebrate the Passover Feast. Please refer to Events and Notices on the Happenings Page for the date of this special service.
FACILITY RENTALS
Contact Debbie Bessette, Office Administrator, for information and availability.