WESTMINSTER CONCERT ORGAN SERIES 2007 - 2008 SEASON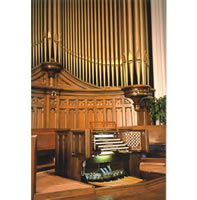 The Westminster Organ Series, at Westminster United Church presents three exciting concerts with the magnificent four manual Casavant Pipe Organ - superb sight lines of the console, great acoustics, and an intermission for friends and coffee.
MANITOBA CHAMBER ORCHESTRA

ACTIVITIES & PROGRAMS
There are a number of adult study groups that meet throughout the year. Please consult our Events & Notices listing for more information.
Quilters - meet Thursdays from 1:00 p.m. to 4:00 p.m. in the Library (September - May)
Sparks/Brownies/Guides - Mondays from 6:30 p.m. to 8:00 p.m.
Brownies
ages 6 to 9
Upstairs Concert Hall
Guides
ages 9 to 12
Gym
Contact: Guide Shop (204) 774-1939
Beavers/Cubs/Scouts - Tuesday 6:30 p.m. to 8:00 p.m.
Beavers

ages 5 to 7 ½

Upstairs Concert Hall
Cubs

ages 7 ½ to 11½

Gym
Scouts

ages 11½ to 14

Gym
Contact: Scouts Canada (204) 786-6661 or Bill Taylor (204) 786-4882
Westminster Children's Care Centre
Monday to Friday - Lunch and Afternoon Program

Contact: Greg Blanco, Director, at (204)772-8476
"Five Plus" AlAnon Family Group - meet Thursdays at 8:00 p.m. on the Upstairs' stage
AlAnon is a support system for family members or friends of people suffering from the disease of alcoholism.

Contact: (204) 943-6051