Rev. Robert Campbell, Minister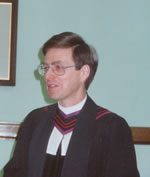 Robert Campbell became the minister of Westminster Church in 1989. He is the primary worship leader and preacher at most services. He presides over the congregation's sacramental life at the Communion Table and Baptismal Font. He is responsible for providing pastoral care to the congregation and fostering its growth in faith and learning. He also works with the church board and committees to administer the church's life and encourage its growth. A native of rural Manitoba, Rev. Campbell was ordained to the ministry in 1978. He served the Holland-Cypress River Pastoral Charge prior to coming to Westminster.
Rev. Campbell has published a book of his sermons, "People of The Promise".
A copy can be ordered through the church office. Please call 784-1330.
E-mail: rdcampbell@westminsterchurchwinnipeg.ca
Joan Jarvis, Diaconal Minister, began as Minister of Education, Service and Pastoral Care at Westminster in July of 2005. She has served in paid accountable ministry within The United Church of Canada since 1987; first at Fort Garry United in Winnipeg 1987-1992 and then at Spirit River, Rycroft, Hythe and Clairmont in Northern Alberta from 1992-2001 and 2001-2005 at Central United Church in Brandon, Manitoba.

As a diaconal minister, her ministry is not defined by function and role, but rather, often grows in response to the educational, social and pastoral needs of people. She believes that ministry belongs to the people and part of the task of leadership is to respond to the needs of the time and to help others discern where they may have gifts to offer. This includes a strong commitment to a vision of being co-learners and co-workers with others, as in community we seek to be a church that offers a transforming presence in the world.

E-mail: j_jarvis@mts.net





Debbie Bessette, Office Administrator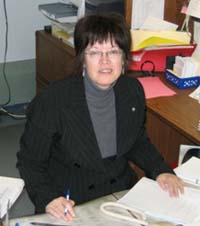 Debbie has a wide range of responsibilities. When someone contacts the church on a weekday, she is likely to be the first person they meet, answering questions such as "when are the services?" and "may we be married at Westminster?"
A great deal of her week is also spent preparing the bulletin for Sunday service and facilitating communication among members of the Board with minutes and reports. In addition, since Westminster is known for its wonderful acoustics, Debbie fields requests for concerts of all kinds from Japanese drums to the Winnipeg Singers and Manitoba Chamber Orchestra and conducts personal tours of the facilities for prospective renters.
She also oversees the work of volunteers who help in the office on a weekly basis. Public Relations, Communications, Record Keeping, Staff and Volunteers, all part of Debbie's work week.
E-mail: info@westminsterchurchwinnipeg.ca
Glen Harrison, Choir Director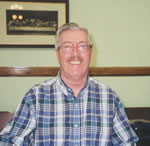 Glen has been director of music at Westminster Church since 1958. For thirty-eight years he was involved in music education, as a teacher, Director of Music for the Seven Oaks School Division, Supervisor of School Radio & Television Broadcasts for the Department of Education, festival adjudicator, lecturer at the University of Manitoba, and, before retirement, was Coordinator of Music for the Winnipeg School Division. Glen was a founding member of Rainbow Stage and for many years served as Artistic Coordinator and Musical Director. Glen was instrumental in the formation of the Gilbert & Sullivan Society of Winnipeg and has been the Artistic Director for all of its productions.
Don Menzies, Organist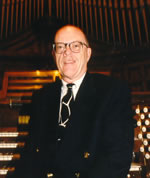 Don was appointed Organist of Westminster Church in October 1966. He holds several organ degrees ­ Associate of the Royal Conservatory of Music in Toronto (ARCT), Licentiate Trinity College London (LTCL), and Licentiate in Music ­ Manitoba (LMM). Don has been recitalist on the CBC-FM program "Organists in Recital" and has performed on a number of occasions with the Manitoba Chamber Orchestra. He is Co-founder of the Westminster Concert Organ Series, which started in 1989 and performs frequently as part of that series.
Helen La Rue, Kids' Choir Director
Helen is always one of the earliest arrivals on Sunday morning. With her box of treats in one hand and music in the other, Helen is there every Sunday to lead the Kids' Choir. A music teacher and fine pianist, Helen is one of Westminster's treasures.
Sharon Taevs, Sunday School Superintendent